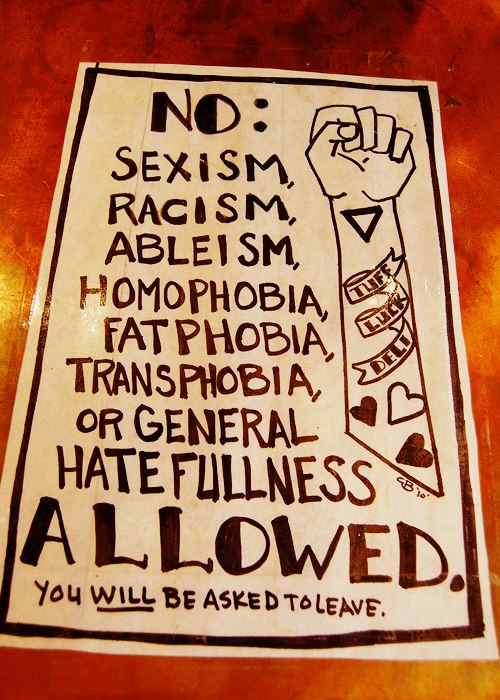 IMPORTANTISIMAS cosas que debes saber antes de apuntarte a las jornadas THF!
No es No
De lxs participantes se espera un trato reciproco de respeto, tanto con las personas como con las instalaciones, y ayudar proactivamente a crear un ambiente acogedor. Si observas, ves o vives un comportamiento que no cumpla con esta norma, por favor, compartelo con el equipo de respuesta rapida (informacion en el infopoint) de una manera en que todxs podamos generar una respuesta, y asi crear un THF! tan acogedor y seguro como esperamos que sea.
Este es un evento TransHackFeminista de alto voltaje y algunos comportamientos no son bienvenidos. Permite que alguien deje una conversación donde la persona se siente incómoda y no siga a las personas que pidieron que lo dejen en paz. Cualquier tipo de agresividad general y falta de respeto gratuito será profundamente reprobado. No toleraremos cualquier forma de acoso, o falta de respeto a ninguna persona. Acoso Incluye: comentarios ofensivos basados en las identidades de género, orientación sexual, etnicidad, clase, aspecto físico, incapacidad, religión y condición económica social, incluyendo intimidación, persecución, fotografías o vídeo sin acuerdo previo, invasión y contacto físico indeseado. No te vamos a invitar a salir, te vamos a patear directamente fuera. En resumen, si te comportas como un gilipollas, THF! no es el sitio adecuado para ti.
El THF! es un evento autogestionado. Esto significa que todxs lxs participantes han de contribuir de alguna manera, tanto en contenido, dinámicas y logística. Durante el evento, y antes, vamos a decidir juntxs qué tareas son básicas y estructurales a las que todo el mundo a contribuir para su realización. No somos proveedorxs de servicios, todxs limpiamos, documentamos, informamos, cuidamos de la comunidad autónoma temporal que crearemos y por supuesto, nos divertimos juntxs!
Respeto a los pronombres que cada unae de laes participantes prefiere, junto a su avatar o nombre elegido.
No juzgar a les compas que utilizan herramientas no libres/privativas en diferentes ambitos laboral/personal/social.
El THF asi como Calafou estan totalmente volcados en el desarrollo y proteccion de la cultura libre. Por ello si quieres producir un articulo, pieza audiovisual o cualquier otro tipo de produccion multimedia acerca del THF y/o calafou tendras que liberar ese material bajo una licencia libre. Leete porfavor nuestro protocolo de medios para poder contribuir a ladocumentacion y difusion del evento THF 2022.
Si presentas en los talleres y actividades agendas temas difíciles que pueden ser traumáticos para les participantes, brinde advertencias para que las personas puedan dejar una conversación o planificar estrategias de afrontamiento.
Calafou es un proyecto eco-industrial, no es un proyecto agrícola, ni una eco-aldea, ni un proyecto de salud, ni un lugar de retiro para trabajar la espiritualidad o lo existencial. No es un lugar idílico aunque una amplia comunidad de personas llevan una decada trabajando en rehabilitar el espacio y mejorar sus infrasestructuras.
Calafou es un espacio que se inicio con muchas compañeras hacker pero también es un espacio mutante. En la ultima década, en Calafou han participado varios colectivos transhackfeministas que actualmente ya NO forman parte de este proyecto. Calafou se mantiene, con proyectos como la cooperativa de viviendas y otros proyectos, si quieres saber que proyectos habitan actualmente este espacio informate en el blog de Calafou!
---
ENGLISH IMPORTANT things to know before you sign up for the THF!
No is No
Participants are expected to treat with respect, both people and facilities, and to proactively help create a welcoming environment. If you observe, see or experience behaviour that does not meet this standard, please share it with the rapid response team (information in the infopoint) in a way that we can all generate a response, and create a THF! that is as welcoming and safe as we hope it will be.
This is a TransHackFeminist event and some behaviours are not welcome. Let someone leave a conversation when the person feels uncomfortable and do not follow the people who have asked to be left alone. Any kind of general aggressiveness and gratuitous disrespect will be deeply frowned upon. We will not tolerate any form of harassment, or disrespect to any person. Harassment includes: offensive comments based on gender identity, sexual orientation, ethnicity, class, physical appearance, disability, religion and social economic status, including bullying, stalking, unwanted photographs or video without prior agreement, invasion and unwanted physical contact. We will not ask you to reconsider, we will kick you straight out. In short, if you behave like an asshole, THF! is not the place for you.
THF! is a self-organised event. This means that all participants have to contribute in some way, both in content, dynamics and logistics. During the event, and before, we will decide together which tasks are basic and structural to which everyone will contribute to its realisation. We are not service providers, we all clean up, document, inform, take care of the temporary autonomous community we will create and of course, have fun together!
Respect the pronouns that each of the participants prefers, along with their avatar or chosen name.
Do not judge the fellows who use non-free/privative tools in different work/personal/social environments.
The THF as well as Calafou are fully committed to the development and protection of free culture. So if you want to produce an article, audiovisual piece or any other kind of multimedia production about the THF and/or calafou you will have to release that material under a free license. Please read our media protocol in order to contribute to the documentation and dissemination of the THF 2022 event.
If you present difficult topics in workshops and activities that may be traumatic for participants, provide warnings so that people can leave a conversation or plan coping strategies.
Calafou is an eco-industrial project, not an agricultural project, not an eco-village, not a health project, not a retreat place to work on spirituality or the existential. It is not an idyllic place, although a large community of people have been working for a decade to rehabilitate the space and improve its infrastructures.
Calafou is a space that started with many fellow hackers but it is also a mutant space. In the last decade, several transhackfeminist collectives have participated in Calafou, but NOT all of them are still part of this project. Calafou is maintained, with the housing cooperative and other projects, if you want to know what projects currently inhabit this space, check out the Calafou blog!
---
FRANCAIS Des choses IMPORTANTES à savoir avant de s'inscrire au THF !
Non c'est non
Les participant⋅e⋅s sont tenues de se traiter mutuellement avec respect, tant avec les personnes qu'avec les installations, et de contribuer de manière proactive à la création d'un environnement accueillant. Si vous observez, voyez ou subissez un comportement qui ne répond pas à cette norme, veuillez en faire part à l'équipe d'intervention rapide (informations dans l'infopoint) de manière à ce que nous puissions toutes générer une réponse et créer un THF! qui soit aussi accueillant et sûr que nous l'espérons.
Il s'agit d'un événement TransHackFeministe et certains comportements ne sont pas les bienvenus. Laissez les personnes quitter les conversations où elles se sentent mal à l'aise et ne suivez pas une personne ayant demandé à être laissée seule . Toute forme d'agressivité générale et de manque de respect sera profondément désapprouvée. Nous ne tolérerons aucune forme de harcèlement, ni aucun manque de respect envers qui que ce soit. Le harcèlement comprend : les commentaires offensifs fondés sur l'identité de genre, l'orientation sexuelle, l'origine ethnique, la classe sociale, l'apparence physique, le handicap, la religion et le statut socio-économique, y compris les brimades, le harcèlement, les photographies ou vidéos non désirées sans accord préalable, l'invasion et le contact physique non désiré. Nous ne vous demanderons pas de reconsidérer, nous vous mettrons directement dehors. En bref, si vous vous comportez comme un connard ou une connasse, THF ! n'est pas l'endroit pour vous.
THF ! est un événement auto-organisé. Cela signifie que toustes les participant⋅e⋅s doivent contribuer d'une manière ou d'une autre, tant au niveau du contenu que de la dynamique et de la logistique. Pendant l'événement, et avant, nous déciderons ensemble des tâches fondamentales et structurelles auxquelles chacun.e contribuera pour sa réalisation. Nous ne sommes pas des prestataires de services, nous nettoyons toustes, documentons, informons, prenons soin ensemble de la communauté autonome temporaire que nous allons créer et, bien sûr, nous nous amusons ensemble !
Respectez les pronoms que chaque participant préfère, ainsi que son avatar ou son nom choisi.
Ne jugez pas les collègues qui utilisent des outils non libres/privés dans des environnements professionnels/personnels/sociaux différents.
Le THF ainsi que le Calafou sont pleinement engagés dans le développement et la protection de la culture libre. Ainsi, si vous souhaitez produire un article, une pièce audiovisuelle ou tout autre type de production multimédia sur le THF et/ou le calafou, vous devrez publier ce matériel sous une licence libre. Veuillez lire notre protocole média afin de contribuer à la documentation et à la diffusion de l'événement THF 2022.
Si vous présentez des sujets difficiles dans le cadre d'ateliers et d'activités qui peuvent être traumatisants pour les participant⋅e⋅s , prévoyez des avertissements afin que les gens puissent interrompre une conversation ou planifier des stratégies d'adaptation.
Calafou est un projet éco-industriel, pas un projet agricole, pas un éco-village, pas un projet de santé, pas un lieu de retraite pour travailler sur la spiritualité ou l'existentiel. Ce n'est pas un endroit idyllique, même si une grande communauté de personnes travaille depuis une décennie à la réhabilitation de l'espace et à l'amélioration de ses infrastructures.
Calafou est un espace qui a commencé avec de nombreux collègues hackers mais c'est aussi un espace mutant. Au cours de la dernière décennie, plusieurs collectifs transhackféministes ont participé à Calafou, mais ils ne font pas tous encore partie de ce projet. Calafou est entretenu, avec la coopérative d'habitation et d'autres projets, si vous voulez savoir quels projets habitent actuellement cet espace, consultez le blog de Calafou.
---
ITALIANO Cose IMPORTANTI da sapere prima di iscriversi al THF!
No è No
Ci si aspetta che le persone che partecipano, trattino con rispetto, sia le persone che le strutture, e che aiutino proattivamente a creare un ambiente accogliente. Se osservi, vedi o subisci un comportamento che non rispetta questo standard, per favore condividilo con il team di risposta rapida (informazioni nell'infopoint) in modo che tutti possiamo generare una risposta, e creare un THF! che sia accogliente e sicuro come speriamo che sia.
Questo è un evento TransHackFemminista e alcuni comportamenti non sono graditi. Lasciate che le persone abbandonino una conversazione quando si sentono a disagio e non seguitele se hanno chiesto di essere lasciate sole. Qualsiasi tipo di aggressività generale e mancanza di rispetto gratuita sarà profondamente disapprovata. Non tollereremo alcuna forma di molestia o di mancanza di rispetto verso qualsiasi persona. Le molestie includono: commenti offensivi basati sull'identità di genere, l'orientamento sessuale, l'etnia, la classe, l'aspetto fisico, la disabilità, la religione e lo status economico sociale, incluso il bullismo, lo stalking, fotografie o video indesiderati senza previo accordo, invasione e contatto fisico indesiderato. Non vi chiederemo di riflettere, vi cacceremo via subito. In breve, se ti comporti come uno stronzo, THF! non è il posto per te.qualcuno
THF! è un evento auto-organizzato. Questo significa che tutti i partecipanti devono contribuire in qualche modo, sia nei contenuti che nelle dinamiche e nella logistica. Prima e durante l'evento decideremo insieme quali sono i temi fondamentali e strutturali chiunque contribuirà per la sua realizzazione. Non siamo fornitori di servizi, tutti noi puliamo, documentiamo, informiamo, ci prendiamo cura della comunità temporanea autonoma che creeremo e, naturalmente, ci divertiamo insieme!
Rispettate i pronomi che ogni partecipante preferisce, insieme al suo avatar o al nome scelto.
Non giudicate i colleghi che utilizzano strumenti non liberi/privativi in ambienti lavorativi/personali/sociali diversi.
Il THF, così come Calafou, sono impegnati nello sviluppo e nella protezione della cultura libera. Quindi se vuoi produrre un articolo, un pezzo audiovisivo o qualsiasi altro tipo di produzione multimediale sul THF e/o Calafou dovrai rilasciare quel materiale sotto una licenza libera. Per favore, leggete il nostro protocollo per i media al fine di contribuire alla documentazione e alla diffusione dell'evento THF 2022.
Se presentate argomenti difficili in workshop e attività che possono essere rischiosi per i partecipanti, fornite avvertimenti in modo che le persone possano abbandonare la conversazione o pianificare strategie di adattamento.
Calafou è un progetto eco-industriale, non un progetto agricolo, non un eco-villaggio, non un progetto sanitario, non un luogo di ritiro per lavorare sulla spiritualità o sull'esistenziale. Non è un luogo idilliaco, anche se una grande comunità di persone ha lavorato per un decennio per riabilitare lo spazio e migliorare le sue infrastrutture.
Calafou è uno spazio che è iniziato con hacker, ma è anche uno spazio mutante. Negli ultimi dieci anni, diversi collettivi transhackfemministi hanno partecipato a Calafou, ma NON tutti fanno ancora parte di questo progetto. Se vuoi sapere quali progetti abitano attualmente questo spazio, controlla il blog di Calafou!